How to Design

Selective Catalytic Reduction (SCR)


for NOX
What is a Selective Catalytic Reduction System?
Nitrogen Oxides are reduced to Nitrogen by Ammonia in the presence of catalyst
Technology available since 1950s. First tried out in Japan in 1963. The first commercial installation began in 1978
Best available control technology (BACT) for reduction of NOx (can accomplish greater than 95% reduction)
Ammonia and NOx mixing methods are discussed in the previous post
What are the chemical reactions in SCR
The following are the major reactions taking place:
4NO + 4 NH3+ O2  = 4 N2+6H2O               (1) Dominant Reaction
6NO + 4NH3 =  5 N2+6H2O                          (2)
NO + NO2+ 2 NH3  =  2 N2+3H2O                (5)
2NO2+4 NH3+O2  = 3 N2+6H2O                  (3)
6NO2+ 8 NH3  = 7 N2+12H2O                       (4)
Flue gas passes through an ammonia injection grid
Ammonia vapor is dispersed and mixes with NOx
Flue gases pass through the catalyst bed
NOx is converted to Nitrogen and Water vapor
Effect of NH3 Slip on NOx Reduction Efficiency
To reduce the  NOx emissions and to meet regulatory limits, ammonia (NH3) is used to react with these NOx molecules at high temperatures to produce molecular nitrogen (N2) and water vapor
The NOx removal efficiency depends on NH3 slip
What is the catalyst Bed?
Base metals (V-Mo-W)
Honeycomb or plate corrugated
Blocks packaged into metal frames for handling
Catalyst Operating Temperature
Ideal operating range: 500-800°F (260-427 °C)
Greater catalyst volume required outside the ideal operating range
Must not neglect alternative operating conditions: turndown or decoking
SCR Catalyst Chemicals
Vanadium-Titanium based catalyst

350-850°F (177-454 °C) (most optimum 675-840°F (357-449 °C)
Vanadium-Titanium coating on ceramic honeycomb or metallic plate
Homogenous monolithic honeycomb

Cormetech
Haldor Topsoe
Structure of SCR Catalyst
There are different of SCR structures been employed in industries to ge uniform velocity and reaction with catalyst
Honeycomb, Plate type and corrugated structures reduces fluctuation in fluid flow
What is NOx Removal Efficiency
Typical inlet NOx  values  for in gas/oil-fired units are given below

Oil: 250-300 ppmvd
Gas: 150-200 ppmvd

NOx reduction efficiency should be more than 95%
The desired ammonia slip: NH3 slip < 5-10 ppmvd
Average value at Outlet NOx:  5-15 ppmvd
Correcting NOx Emissions to Standard O2 Concentration
In Europe NOx is frequently expressed as mg/Nm3.
To convert NOx reading from ppmvd to mg/Nm3,
                    NOx (mg/Nm3)= 2.05 * NOx (ppmvd)
Converting NOx from ppmvd to lb per MMBtu
In order to convert NOx from ppmvd to lb./MMBtu, the volume of dry products in SCF per MMBtu (DSCF) must be known
The equation is DSCF for gas fuels=8,740/MMBtu (DSCM 0.235/MJ )
Definition of NOx Removal Efficiency
The NOx removal efficiency is defined as the ratio of the concentration of  NOx removed to the amount NOx in flue gas
 Its depends on updo space velocity and the molar ratio of Ammonia to NOx
Lower space velocity higher conversion
High molar ratio higher conversion
Key Parameters for SCR System 
Type of catalyst
Area of catalyst surface exposed to flue gas
The residence time of the gas in the reactor
Amount of ammonia injected upstream
Degree of mixing of ammonia and NOx
Fuel sulfur content
Dust loading of flue gases
Space Velocity for Catalyst
Linear velocity
Space velocity-most popular measure
Typical space velocities- 20,000-40,000/hr (5.56-11.11/sec.)
Pressure Drop

Typically, 2-4 inches W.C. (50.8-102 mm WC)
Catalyst Surface Area
Performance depends upon:

Diffusion surface area of the catalyst

The larger the area, the better will be SCR performance

Characteristics of the catalyst
Cells per inch (higher cell density provides more surface area)
Oxygen Concentration
As indicated in the original reactions, the presence of oxygen is needed for denitrification
As oxygen concentration increases, catalyst performance improves till it reaches an asymptotic value
Effect significant only when O2 is less than 3%
Catalyst Life
Typical guaranteed life of 3-5 years
If the activity is depleted, another module could be added for increasing the activity
Catalyst disposal is normally taken care by the catalyst vendor
SCR Catalyst Deactivation
 Various mechanisms is possible for deactivation of SCR

Poisoning
Blockage
Physical destruction

When the catalyst surface or the pores of the catalyst are blocked, flue gas/NOx cannot contact the catalyst
Catalyst Poisons
Selective Poisoning

SO2 or SO3 gets absorbed on the active surfaces of the catalyst and renders it inactive

Non Selective Poisoning

Foreign substances on both catalyst and carrier
Dust, Soot, Oil, Mist, Phosphorus components
Arsenic compounds

Alkali Metals

Alkali metals chemically attach to the active

catalyst pore sites and cause blinding. Sodium and potassium are of prime concern
Catalyst Fouling
Catalyst bed pressure drop should be monitored for any fouling
Fouling can occur due to:

Burning dirty fuel
Sulfate deposition
Excessive fuel-rich operation
Surface dust or dirt in flue gases
Side Reactions
Ammonium Bisulfate and Ammonium Sulfate compounds
Ammonium bisulfate is a sticky compound
Ammonium sulfate is a dry solid
Ammonia also reacts with Hydrochloric acid to form Ammonium chloride
SCR System Components
Following major components:

Ammonia injection grid
SCR reactor
Ammonia control and dilution skid

Both aqueous and anhydrous ammonia are used as reactants
The main components of SCR are shown in the following figure
Ammonia Flow Control Unit (AFCU)
Contains the equipment and instrumentation necessary for the control and injection of ammonia in the flue gas stream
Mainly Consists of
Vaporizer/Atomizer
Dilution Air Fan
Mixer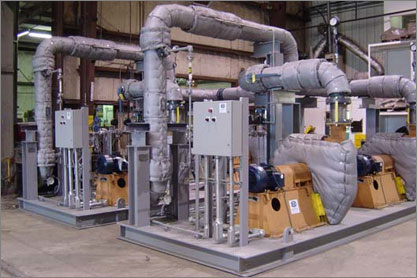 NH3 Reagent
Aqueous NH3

Contains 19-29 wt.% NH3 solution mixed with water
Safer to store compared to anhydrous NH3
No special handling or permitting
Typically 4-5 times expensive on basis of wt. of pure NH3

Anhydrous NH3

Contains 99.5 vol.% minimum NH3
Stored as compressed liquid gas (Typically 20-265 psig (1.41-18.6 kgf/cm2))
Classified as hazardous material & requires special handling
Less energy intensive as less/no water is to be vaporized
Dilution Medium
Fluid used to disperse reactant within the flue gas stream
Air or Flue Gas
Air used is at least 20 times the amount of NH3
Air blowers provide 55-60 in WC (1,397-1,524 mm H2O) pressure
Maximum pressure is provided to ensure good mixing
Two 100% capacity blowers are typically provided
Each blower is provided with an inlet filter/silencer and a differential pressure indicator to monitor pressure drop
Aqueous NH3– Gaseous Injection
Pumped from the storage tanks and mixed with a heated air stream in an NH3 vaporizer and mixer
Primary system components are

Aqueous NH3 storage tank
Carrier gas supply
NH3 gas supply
Filters or Strainers
Air heater or NH3– Air vaporizer
NH3 Vaporizer and Mixer
Should provide an even distribution of aqueous NH3 with dilution stream
Feed must be filtered and metered
The material in contact with NH3 must be 304L SS minimum
Elements and components should provide a minimum time between maintenance cleaning of 60 months
Anhydrous NH3– Gaseous Injection
AIG Design Criteria
Ammonia to NOx concentration at the catalyst faces is generally  maintained between ± 5-10% RMS for better NO removal efficiency
Mixing time of 50 to 1000 mill-seconds is taken in most the industrial applications
Flue gas temperature over the face of the catalyst bed is uniform, with ± 20°F (11°C)
Velocity distribution at SCR inlet needs to be  uniform for better mixing of ammonia and flue gas
Scope of CFD Modeling for SCR
The velocity and pressure drop across the ammonia and flue gas mixing units can be predicted based on CFD results
Species transport models in any CFD solver without reaction need to be selected.
After numerical simulation, we can show with contours of RMS of ammonia concentration of flue
CFD users must study the following subject for SCR modeling