Understanding
Basics of Emissions

and
CFD Modeling
Modeling the Unwanted combustion to understand Environmental Pollution
 Introduction to Emissions
The term of Emissions is used to describe the gases and particles which are put into the air or emitted by various sources.
An emission comprises one or more specific greenhouse gases or air pollutants originated from all source categories in a certain geographical area and within a specified time span
Hot gases and particles emitted from coal-fired thermal power plants. Solid  Fuel contains a high carbon index and unburnt carbon particles are exhausted at higher altitudes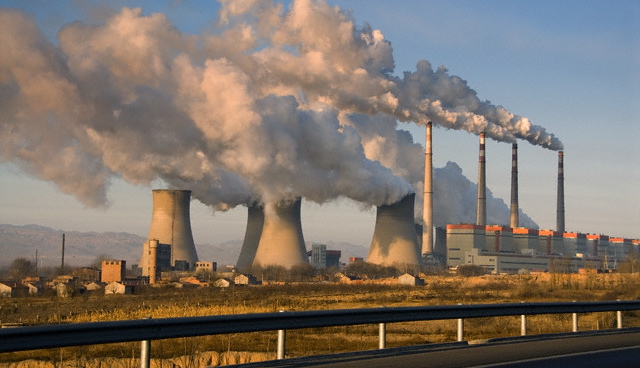 The majority of air pollution is due to coal-fired thermal plants. Hence such power generation stations are away from the cities or public areas.
Details of pollutants emitted from the power plants and automobiles have been explained the following video:
Major sources of Pollutant Emissions 
Natural sources of emissions: volcano, wildfires, forest
Area /region based emission: construction works, farm fields burning
Mobile /transport vehicle: cars, trucks,buses, and aero-planes
Stationary Industries: Coal or oil Thermal power plant, Cement plant, chemical and processing industries, Oil refineries
The majority of air pollution is due to transportation and thermal power plant for electricity generation
 Quantification of Emissions
Emission index" (EI): The EIi for a certain chemical species is defined as the ratio of the mass of the pollutant species i to the mass of fuel burned
Assuming that CO2, CO, and unburned hydrocarbons are the major combustion products and all other species are negligible Emission index" (EI)
  EI for automobile or power generation applications:

mass species emission(MSE, units g/(kW-h)) is used and its definition is
where  mf is the fuel mass flow rate (kg/h), W is the brake power generated (kW)
 For furnace applications

: the level of pollution is often expressed as
 Classification of Pollution 
Outdoor Pollution

There are many resources of pollution
Natural resources mountain volcano, atmospheric air flow with dusts, land sliding
Man made resources: transport vehicle, stationary power plant, chemical and  process industries
Industries are examples of outdoor pollution
 Indoor Pollution

Airborne particle in home
Flue gases and dust generated in kitchen due to cooking and unwanted vegetables
Dust from broken walls and floors
Dust from the sandal, shoes  etc.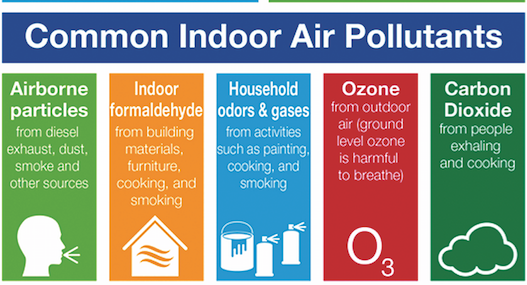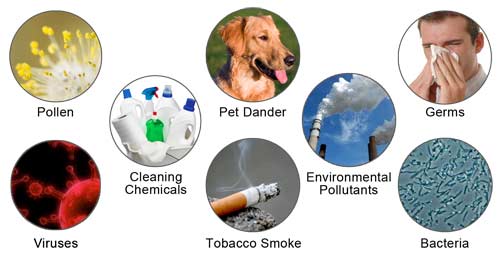 Fig. 4  Examples of indoor pollution
Parameters
Controlling the Pollutants
    Temperature and residence time,

τ

res

, are two important parameters influencing the formation of pollutants. Temperature affects the onset of certain chemical reactions and consequently, the formation of certain chemical species.
   Since combustion temperature is a strong function of mixture composition, i.e. equivalence ratio (ϕ), pollutant formation can be influenced by

controlling reactant mixture composition
       In order to complete chemical reactions in a combustion device, sufficient time must be provided for the reactants to react, i.e. the

reactants must remain in the combustor longer

than the time they need to react

.
   Residence time (

τ

res

):

it is the amount of time that reactants reside inside the 

combustor
    Chemical time (

τ

chem

):

it is

the amount of time that the reactants need to react

. Chemical time is inversely proportional to reaction rate

which depends on temperature and mixture composition. Typical values of 

chemical time are of the order of milliseconds
 Effect of relative magnitudes of residence time and chemical time
       τ

res

>=

τ

chem

: Combustion is completed, i.e., most CO is oxidized to form  CO

2.

There will be low CO emission at the exit of the combustor.
 Mole fraction of species for

τ

res 

>=

 τ

chem
        τ

res 

< 

 τ

chem

 

: Combustion is incomplete. CO emissions will be high.

         Mole fraction of species for

τ

res <

 τ

chem
 Effect of Temperature on Emissions
Temperature peaks near the stoichiometric equivalence ratio, ϕ = 1
Trends of emission versus ϕ show that lean combustion can achieve low emissions
Emissions reductions and potential difficulties in achieving lean combustion: flame stability becomes an issue when combustion temperature is low
Effect of flame temperature on emissions
Effect of flammability on emissions 
Effect of flame temperature on emissions
CO emissions are minimized at slightly lean equivalence ratios;
The reaction rate constant of the "wet" CO oxidation route increases with temperature but not a strong function of temperature
Wet route: CO+OH => CO2+H
Dry route: CO+O2 => CO2 +O
Effect of equivalent ratio on CO emissions
 NOx Emissions and its Reduction 
 NOx is formed when the temperature of flue gases is high
Methods of NOx Formation 
Thermal NOx

: NO is formed by the reaction of molecular nitrogen from the combustion air with atomic oxygen at high temperature (> 1800K)

Prompt NOx

: NO is formed by attach of hydrocarbon radical (CH) on N

2

Fuel NOx

: NO is formed  if the fuel contains organically bound nitrogen

 Effect of Temperature on NOx
Predicted NO formation rate versus temperature showing less thermal NO formation when temperature is below 1,800 K.

The right branch is for rich mixtures (equivalence ratio >1) and the left is for lean combustion

Effect of equivalent ratio and temperature on NOx emissions
       Effect of  temperature on types NOx emissions
 Technical Methods of NOx Reduction
 Many industrial practices have been developed to reduce NO pollutions
Combustion Modification and Post Combustion Controls
 Ammonia (NH3) Injection in Flue Gases
Staged Air/Fuel Burner
Refer :
Water Injection
 Flue Gas Re-circulation
Measurement of Emissions 
Vehicular Emissions:
Vehicular emissions can be measured by exahusting the flue gases into the wind tunnel
Sample can checked using different analyzers for emissions
 Measurement of emissions from a vehicle 
(a) Wind tunnel testing
(b) Car emissions measurement
(c) Two wheeler emissions measurement
Flue gas analyzers and measurement principles
Power Plant Emissions
Power plant emissions can be measured by sampling flue gases generated by boiler at different locations of ducts.
The following parameters are commonly measured or conterminously monitored in thermal power plant to control the emissions
 Flue gas monitoring systems for boiler
The Continuous Emission Monitoring System (CEMS) is a facility to measure flow, dust, the concentration of air pollutants (such as SO2, NOx, CO etc), and other parameters according to requirements. Required parameters depend on the type of stationary source

.

Fore more details, click here: Horiba Continuous Emission Monitoring System
 Measurement points for thermal power plant
 CFD Modeling of Pollutants
For more detail refer: Rection Eng.International Pollution Modeling
1
Modeling 
Emission from the Terrain
Using CFD for Cleaner Fireplace Design
CFD Modeling  of Smoke from the Chimney
References
 

Sara McAllister,

Jyh

-Yuan Chen, A. Carlos Fernandez-

Pello

, Fundamentals of Combustion Process

,

Springer Publication

F. El-

mahallay

, S. El-Din

Habik

, 

Funa

,

Fundamentals and Technology of Combustion

,

Elsevier Publication

Stephen Turn

,

An Introduction to Combustion: Concepts and Applications

,

Tata Mac Graw hill Publication
     Research Articles